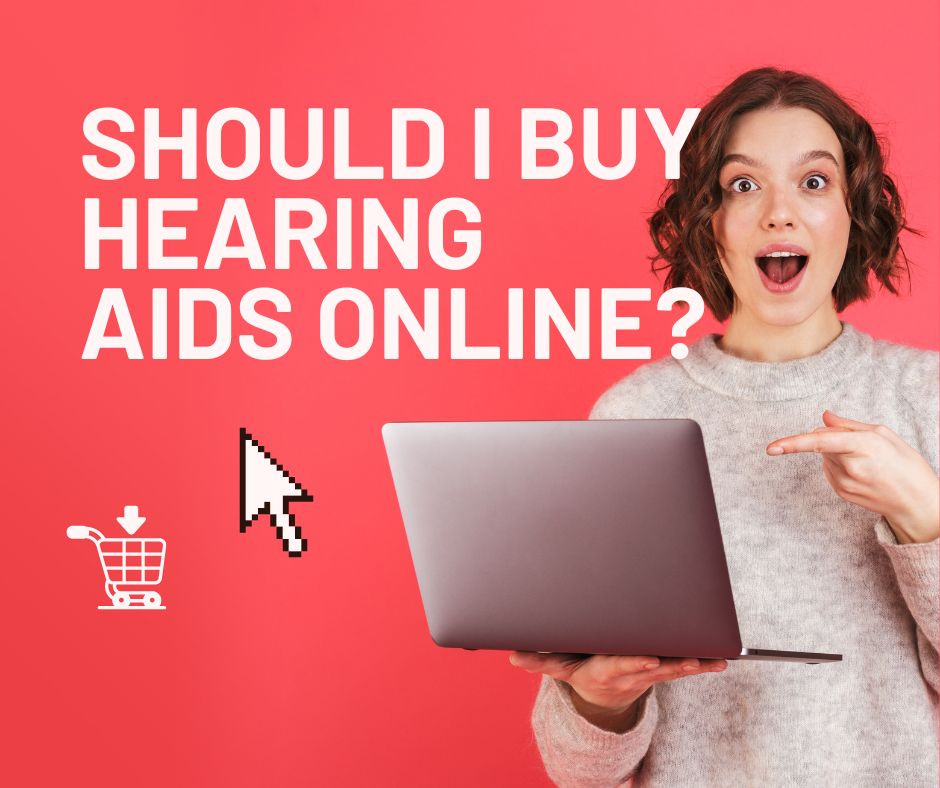 Should I Buy Hearing Aids Online?
The recent finalization of the FDA Reauthorization Act of 2017 has made it easier than ever to buy hearing aids over the counter. Those struggling with mild to moderate hearing loss now have the option to buy from hearing aid companies without a prescription from an hearing health care professionals. This helps many people access the devices they need without incurring the extra costs of in-person appointments or testing.
Whether they're purchased online, at an hearing health care professionals office, or OTC (over-the-counter), many hearing aids are often the same. Yet, there are unique benefits that come along with each type of purchase.
With hearing aids becoming increasingly more accessible, the market is only going to expand. In 2021, the hearing device market was estimated at nearly $7.4 billion with the potential to reach $13 billion by 2030. With so many options, many are asking: "Should I buy hearing aids online?"
In this article, we will take a closer look at buying hearing aids over the internet, how you can treat your hearing loss online with the help of direct providers, and the steps you should take to purchase your hearing aid.


The Safety of Online Hearing Aids
Many people wonder about the legitimacy of buying hearing aids online.


Are they as good as what they're paying for?
Do they have the same fit and features?
Are they FDA or government regulated?


Individuals want to ensure that their purchase is safe, ethical, and effective. Fortunately, relaxed restrictions have made it easy for individuals to purchase hearing aids online if they meet the required criteria for getting the device. If they take the time to identify legitimate hearing aid companies, then they shouldn't face any problems. Online hearing aid companies must still abide by FDA rules.


Factors to Consider When Buying Hearing Aids Online
While due diligence should connect you with a reputable hearing aid company, it's always good to know what red flags to look out for when making an online purchase. Here are some of the main things you should take into consideration:


Selection of devices. Hearing technology has advanced tremendously in recent years. You'll want to ensure you're using an online retailer backed by years of experience offering the latest models and a plethora of options for every lifestyle.
Severity of hearing loss. If you have severe hearing loss or consistent dizziness, vertigo, or ear pain/drainage, it's best to receive professional support from a doctor or hearing health care professional who know how hearing aids work for your particular condition. An OTC hearing aid typically cannot address severe hearing loss issues.
Device quality. While the new FDA guidelines have opened the door for more options, not all OTC hearing aids will adequately suit your needs. Buying directly from a reputable online seller will ensure you have the highest-quality device.


3 Key Benefits of Buying Hearing Aids Online
While similar products may be available when purchasing in-person or online, there are a few key benefits to buying hearing aids online.


Greater Convenience
The ability to buy hearing aids online and receive them straight to your door is a huge perk for many people. This saves a tremendous amount of time and eliminates the need to schedule various appointments at a store or doctor's office.


Better Pricing Options
In many cases, you can find hearing aids online for a fraction of their in-store price. Online retailers can offer lower prices due to the lack of both a middleman and brick-and-mortar costs.


Wider Selection
When you shop online, you can access a much wider selection of hearing aids than you would in person. This is especially helpful if you're looking for a specific style or brand that might not be carried by your local retailer.


Options for Evaluating Hearing Loss Online or In-Person
When purchasing a hearing aid, the device must be correctly fitted to meet the user's unique needs. This includes its physical appearance and comfort, as well as its calibration and detection/amplification of sounds.


For severe hearing loss, a complete hearing test exam will likely be needed before a hearing aid can be purchased. For those with mild to moderate hearing loss, a hearing loss online evaluation (also called online hearing screens) may be all that's necessary to find the right device. You'll need to go to a quiet place and use a computer or phone. Online hearing screens will measure how well you can hear different sound frequencies. You'll need to have a way to measure the decibels (dB) of the sounds you hear through an app on a smart device.


For those with VA benefits, there are telecare appointments where you can have a live video visit and a complete hearing test with a licensed hearing health care professional from the comfort of your own home. This makes it easy and convenient for veterans to get the care they need without leaving their house or take time off from work.
Hearing Loss and the Importance of Hearing Aids for Seniors
Different age groups may benefit from specific types of hearing aids. For example, there are options that are particularly well-suited for seniors.

In recent times, hearing aid technology has progressed significantly, providing a wide range of options for individuals of all ages. Beware of hearing aids priced too low from online sites.

It's crucial to have a clear understanding of how hearing aids function and your options to aid in selecting the best option for your needs.
Beware Of Hearing Aids Priced Too Low From Online Sites Selling Name Brands
It's important to buy legitimate Phonak, Signia, and Widex hearing aids from reputable companies like Direct Hearing.

These companies are known for having hearing care professionals providing long term support and assistance to their customers.

By purchasing from a reputable company, you can ensure that you are getting a long-term relationship and an effective hearing aid that will meet your needs.

Do your research and make sure to buy from a trusted source to avoid being to let down in the future as many current online retailers won't be around.

This doesn't mean you have to buy the most expensive option.
How To Conduct Thorough Research
Before you buy any hearing aid, make sure you do your research. This means knowing what type and style of hearing aid you need and where you can buy them. Once you have a good understanding of the options available to you, you can start looking for hearing aids that fit your specific needs.


Compare different models. When looking for hearing aids, it's essential to compare different models to see which one will work best for you. Consider things like size, style, and features when making your decision. View our models.
Research retailers. There are a variety of places where you can buy hearing aids, including online retailers, brick-and-mortar stores, and hearing health care professionals offices. Each place has its advantages and disadvantages, so it's essential to research your options before purchasing.
Get a professional opinion. If you're unsure about which hearing aid to buy, you can always get a professional opinion from a professional online provider or from a health care professional. They can help you choose the right device and make sure it's properly calibrated for your unique hearing needs. We can assist you with a lot of your questions. Ask us anything!


Understanding the Importance of Hearing Aids
The ability to hear is what connects individuals to the world around them. It helps individuals communicate with one another, create meaningful relationships, engage in various activities, and perform at their best. When someone experiences hearing loss, it can have a profound impact on their overall quality of life.
That's why it's so important to understand the importance of professional hearing devices. Beyond amplifying sound, these devices can help you improve communication, connect with loved ones, and partake hobbies and activities. They can also provide a boost in confidence and self-esteem.
If you're considering a hearing aid, make sure you understand the importance of professional hearing devices. With the right device, you can improve the way in which you live your life and reduce the negative impact of hearing loss.
Direct Hearing Is Your Trusted Provider for Hearing Aids Online
Buying hearing aids over the counter can be a gamble. You don't always know what you're getting, and there's no guarantee that the device will meet your needs.
At Direct Hearing, we take the guesswork out of buying hearing aids. We offer a wide range of devices from leading manufacturers so that you can find the perfect fit for your hearing loss, lifestyle, and budget. We also provide comprehensive services to ensure you get the most out of your hearing aids or OTC device. Visit us online today to learn more about our products and services!